100% Muslin Cotton: Muslin is suitable for delicate and sensitive newborn's skin. The burp cloths comfy for your baby to lean on it when burping the baby.
Extra Absorbent: 6 layer structure provides superior absorbency, stopping drool and spit up in their tracks. Protect yours & kids' favorite clothes from burp stains, wetness and smell.
Perfect Shaped: Sized at 18.5" by 10.6", large and wide enough for full coverage and keep your cloths dry and baby confortable. With the curve in the middle,the burp clothes can well fit your neck, not slip easily.
Low Shrinkage: Pre-washing process greatly reduces the shrinkage. After repeated use and washing, it still maintains softness and absorbency.
Indispensable Essentials: Every new Mom-to be or Dad-to-be will fall in love with this useful burp cloths. Considerate gift for baby showers, birthdays and holidays.
Are you bothered by dirtying your clothes when you burping your lovely baby?
Are you worried about your baby's neck rash due to drooling?
Consider our multi-use muslin burp cloth, you won't worry about this anymore!
Yoofoss burp cloth/baby bibs are super soft and excellent absorbent, which is ideal for handling up baby messes and preventing staining your clothes. Less laundry!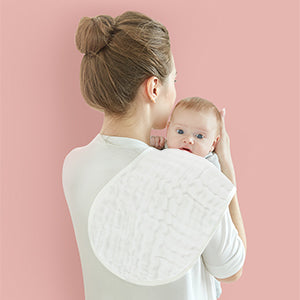 100% Cotton Muslin Baby Burp Cloth
Our burping cloth is made of advanced and environmentally fabric - 100% Cotton. The safety of the baby is our biggest consideration!
What's more, it is super soft, skin-friendly and ideal for using on baby's sensitive skin. Doesn't irritate baby's skin at all.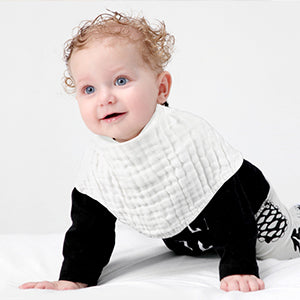 VERSATILE
This is not just a burping cloth, it can also be transformed into a baby bib. Just buckle the snaps on the back - it is handy to wipe the drool, food residue, or milk.
Of course, you can use it as a face towel, nursing pad even a changing pad, etc - Greatly meet your different needs!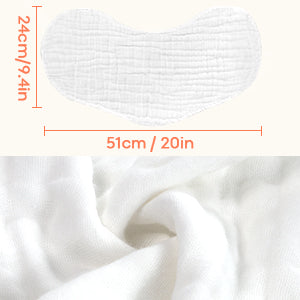 Larger Size & 6 Layers of Absorbency
Larger sized burp cloth measuring 20 x 9.4 inches each offer greater coverage to protect the baby's clothes and help to keep you or baby clean. Your baby's chest and arms can be covered perfectly.
In order to provide a more absorbent burp cloth, we specially designed 6 layers to care for the baby. Each layer is filled with our love for the baby.
Great Baby Shower Gift
A pack of 4 unisex burp cloths is so perfect for either a boy or a girl. Solid color burping cloth with concise style is quite suitable for any event or activity.
Therefore our baby burp cloth is the great choice for presenting a gift for newborn baby or new parents on baby shower day, registry, or all kinds of festivals~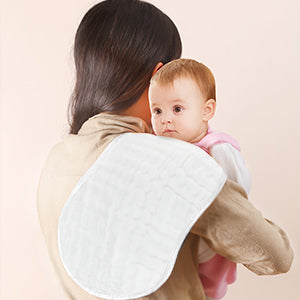 Long-lasting & Light
Our burp cloth can hold up well and still stay soft after billions of washes. Better yet, it is quick-drying and easy to fold.
Besides, this light burp cloth allows you to store nicely when not in use or put 2 or 3 in your diaper bag when you on the go with baby.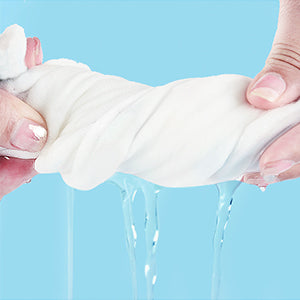 Washing Instructions
Machine washable, recommended for hand washing.
Do not bleach and avoid exposure to the sun.
It is made of 100% cotton hence sometimes it may shrink slightly after washing. But don't worry about it. This is a normal phenomenon and does not have influence on using.