。◕ᴗ◕。FOOD GRADE SILICONE - The pacifier clip is made from food-grade silicone. They are BPA Free and Lead Free. Can be used as a teether for newborn infants to chew. Ideal gift for Baby's teeth development.
。◕ᴗ◕。GREAT VALUE 4 PACK - The package comes with 4 pacifier clips for change! Clean pacifier clips will be available easily. And the different colors fit baby boys and girls both.
。◕ᴗ◕。UNIVERSAL FIT - These pacifier leashes can fit with most pacifiers or teething toys well, and attach easily to drool bibs, clothes, blankets and strollers.
。◕ᴗ◕。PLASTIC CLIPS - The clip is strong enough to stay in place all the time, keeping pacifiers clean. Plastic clasp won't rust and has no sharp edges. Gentle enough and won't damage baby's clothing.
。◕ᴗ◕。UNIQUE DESIGN -The beads have different color and shapes, which can grab baby's attention easily. Helpful for baby's sensory development.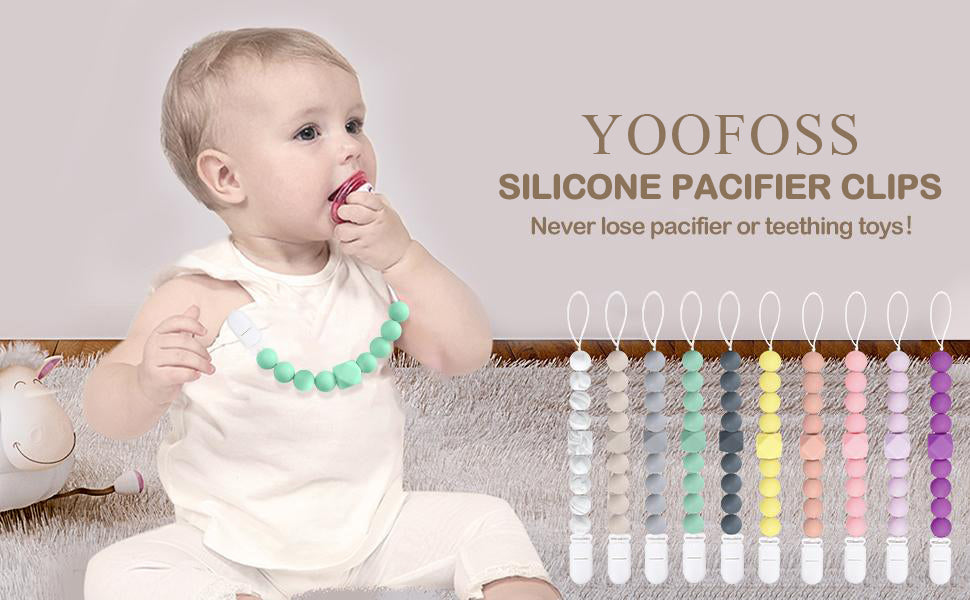 Yoofoss Silicone Pacifier Clips - Never lose pacifier or teething toys!
Nothing is more annoying than a pacifier falling on the ground.
You have to clean it thoroughly before using it again.
Yoofoss Silicone Pacifier Clips help you figure out this problem easily!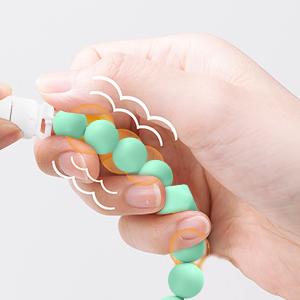 Beads of Different Shapes
The edges of the silicone beads are smooth and will not harm your baby. The round beads are good for the baby to bite and promote the development of gums. The polyhedral bead in the middle is convenient to hold and not easy to slip off.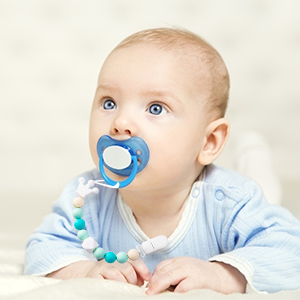 Sensory Development
Silicone beads -Your child can hold, play with, and chew the beads. The beads will soothe your child's gums. The different colors, textures, and shapes grab their attention.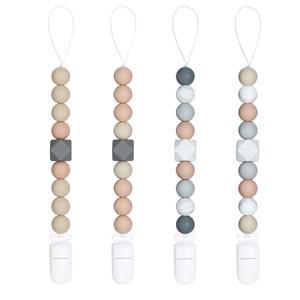 Easy to Operate
The plastic clip is better than metal clip and also holds tight on the clothes. Easy to open or close.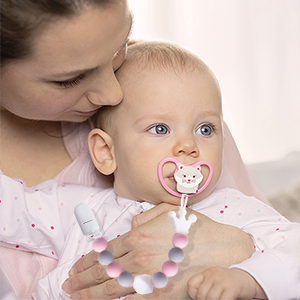 Easy to Clean
Please simply clean with pacifier wipes or a wet cloth, air dry before storage. Easier to clean than cotton strap binky clips.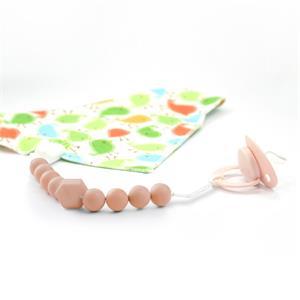 Perfect Baby Gift
Did a family member or friend recently have a baby?
Our pacifier clips set makes a great present for birthdays & Christmas. Works well for baby showers too.
Tips
Wash with mild soap and water.
This is not a toy. If damaged, please discard immediately.
Please inspect each baby pacifier clip before use.