Food Grade Material: Our pacifier holders are made from soft food grade silicone, BPA, PVC, phthalate, lead and metal free. Non-toxic and safe. Universal loop fit most pacifier and a variety of teething soothers.
Great Baby Shower Gift: 4 in 1 package, pacifier clip set comes different color.Our baby pacifier clips make a perfect gift for baby shower, birthday, Christmas or new moms.
Develop Baby's Various Perceptions: Chewable silicone beads provide instant teething relief and promote the development strong healthy teeth and gums. The Vibrant color and different shape as well stimulate visual, motor, sensory development.
Never lose the pacifier: Keep your baby's pacifier, silicon clip, teether toy within easy reach and never fall off getiing dirty or get lost, your baby will always have clean pacifier or chew toy. Attach to clothes, blankets, toys, stroller, or car seats easily.
24 - Hour After-Sell Service: if you have any problem with our silicone pacifier clips, please do not hesitate to contact us for replacement or refund, we will fix the problem for you within 24 hours.

Yoofoss Baby Pacifier Clips Pack of 4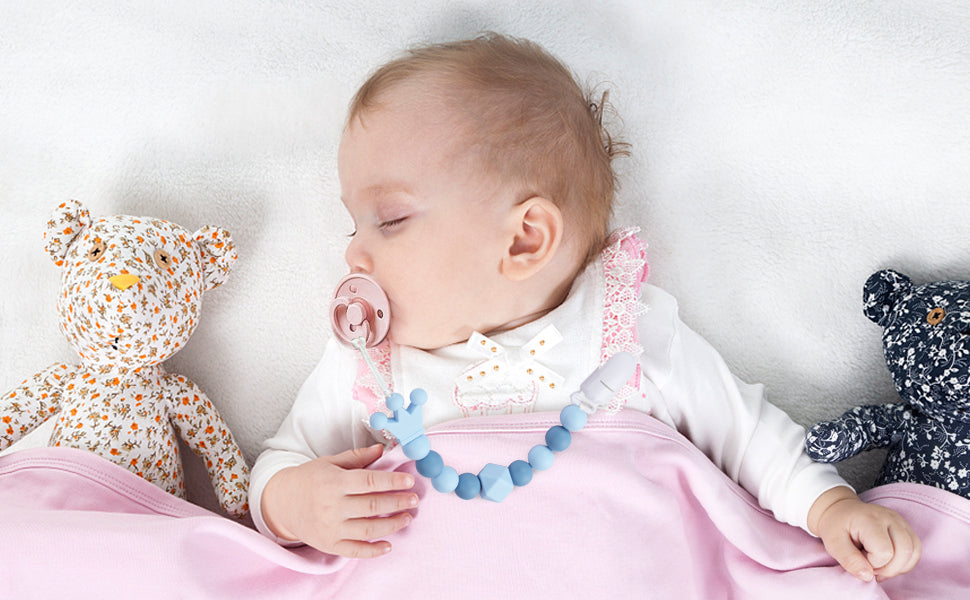 If your kid is always tossing her pacifiers across the room, especially when we're out somewhere not so clean (restaurants, soccer games, camping, etc) With these pacifier clips you can attach the pacifier to your little one's bib or outfit which help keeping track of those buggers and keeps them from falling on the floor.
Size & Weight:
Chain length:6.3in; Clip size:1.6in; Loop length: 2.8in
Weight: 127g
Packing list: 4pcs siliconepacifier clips (No pacifier included)
This pacifier clip set is perfect for securing pacifiers or teething toys on baby bibs, car seat cover, and daily outfit, close to your baby's reach, keep it clean and don't get dirty.
Baby's Pacifiers Or Teething Toys Never Get Lost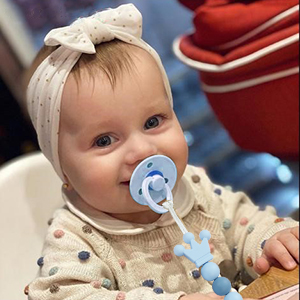 How to Use
1.Pass the rope loop through the hole of the pacifier or teether toy.
2.Pull the plastic clip through the loop of the clip string.
3.Put the loop on the bead until it is completely on the pscifier/adapter/teether toy.
4.Pull tightly to secure. Then you can easily attach it to the baby's pacifier or teether.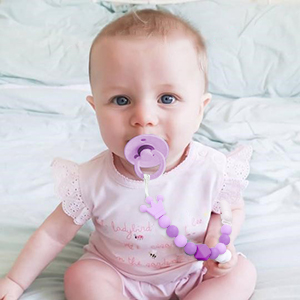 Great Baby Shower Gift
Favorite pacifier clips for friend who is having a baby. Universal works with most pacifier, soothies, nuks, mams and baby teethers.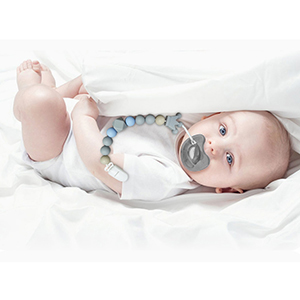 Easy to Clean
Simply put it into soap water and use wipes to clean it then hang dry, more convenient than cotton pacifier clips.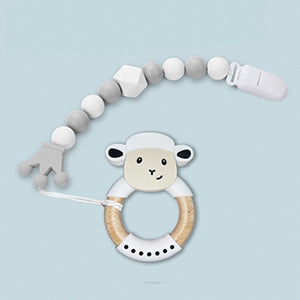 Healthy Material
Our pacifier clips are perfect for our teething little baby.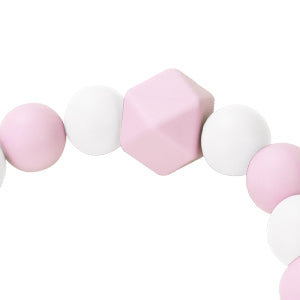 Silicone Beads
Our baby pacifier clips are made of 100% safe food grade silicone. BPA free, no harmful chemicals, no toxic.which is great for teething toddler.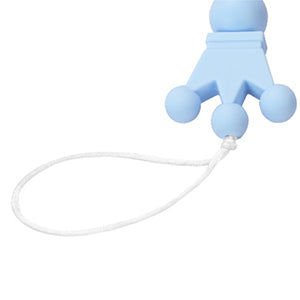 Durable loop
The end string is nice and thin so it doesn't rub on baby's cheek.
Plastic clip
The fastening clip is small and plastic, instead of the big ones or metal pacifier holders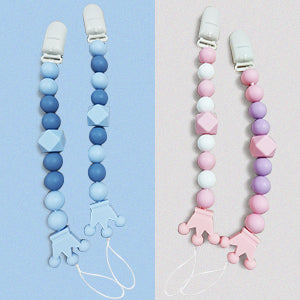 Feature
Chewable beads promote visual, motor and sensory, develop teething gums and symptoms.
Easily attach the pacifier clips to clothes, blanket, baby bibs,car seats, teething toys.
Stylish but practical accessories for baby.
Never lose baby pacifier clips keep the chewing things always clean.
Bright colors attract baby's attention.
Safety Attention
Please use this product under adult supervision
Don't let your baby chew the clips to avoid the danger of suffocation
Remove it in time after falling asleep to avoid wearing around the neck