Pacifier Clip for Boys and Girls 6 Pack Plastic Teething Clips Modern Designs Universal Holder Leash for Pacifiers Teething Toy and Soothie by YOOFOSS
customers are viewing this product
Adorable Unique Design - Our 6 pack of baby pacifier clips are in unique design and neutral colors for all baby boys and girls are suitable for all those cute little outfits. They are perfectly hold pacifiers or teething toys close to your baby to keep it clean and germ-free.
Universal Fit & Multifunctional - Clips can easily attach to clothing or baby bibs and stay in place. Our pacifier clips are universal for soothies and pacifiers with or without a ring, teething toys, baby blankets, drool bibs.
Premium Quality - Yoofoss adorable pacifier clips are made out of washable, durable, high quality cotton material with very soft touch. Plastic clasp is strong enough to hold against a child`s pull but gentle enough not to damage their clothing. Plastic clasp won't rust and has no sharp edges.
Perfect Baby Shower Gift or Baby Registry Present - Every mom can use and will love for baby showers, sprinkle, birthday or Christmas presents. Experienced parents know you can never have enough of the essentials.
100% Satifaction - we LOVE our customer and TRUST our products. If you are not satisfied with your purchase, contact us directly and you can return them for a full refund no questions asked!
Yoofoss Plastic Pacifier Clips for Boys and Girls
NO MORE WORRIES ABOUT LOST OR DIRTY PACIFIERS, SOOTHERS AND TOYS
NO MORE WORRIES ABOUT SPOIL YOUR BABY'S CLOTHES OR BANDANA BIBS
NO MORE WORRIES ABOUT ENDLESS PURCHASING OF NEW PACIFIERS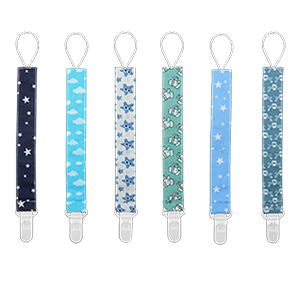 YOOFOSS pacifier clips have a unique, trendy and very cute double sided design for baby boys and baby girls. With 6 different unique unisex prints, you can always match them well with your baby's clothing or bibs and design trendy style for your baby, adding more fun to your babies' daily outfit.
Made of high quality durable cotton that is hand washable and is soft to the touch. The high-quality clip makes sure that your pacifier is securely fastened. Each one is made with a plastic clip that baby can't pull off to lose. It will not harm your child's clothes and safe for babies teeth if they chew on it.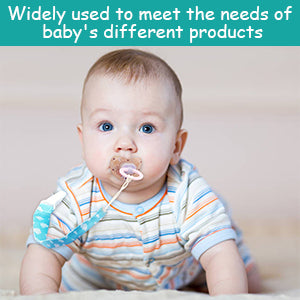 UNIVERSAL FIT & MULTI PURPOSE:
Our pacifier clips will connect to all kinds of soother or pacifier (with or without a ring). They are also perfect for teething toys, baby blankets and drool bibs so that your favorite items will always be held safe.