Foldable Diaper Bag: The diaper bag is not only a normal backpack, but also a foldable crib. With the foldable design, the diaper bag could provide space for you to change diapers at any time. The changing pad mat is thick enough,allowing your baby to lie down and rest well.
Large Capacity: The baby diaper bag is 12x7x15.7 inch. With many independent pockets and scientific partition, our diaper bag can carry more baby essentials things, like diapers, creams, milk bottles, clothes, hats and underwear etc.
Multi-pocket Design:A main compartment with 4 interior pockets for all baby essentials. 3 Insulated aluminum foil pockets hold 4-8 oz baby bottles(fits major baby bottle brands). No more worry about your baby getting cold milk. Other pockets with different functions will help you organize various items neatly.
Waterproof & Durable Fabric: The baby bag is made of tear-resistant, waterproof and lightweight material. Reinforced cushioned shoulder straps and padded back panel can distribute the load evenly, so you can wear it comfortably for a long time.
Ideal for New Parents:The baby bag can be used as a diaper carrying bag, father's backpack, nurse bag, newborn recliner, simple crib and outdoor cradle. The neutral grey color makes it suitable for new father and mother both.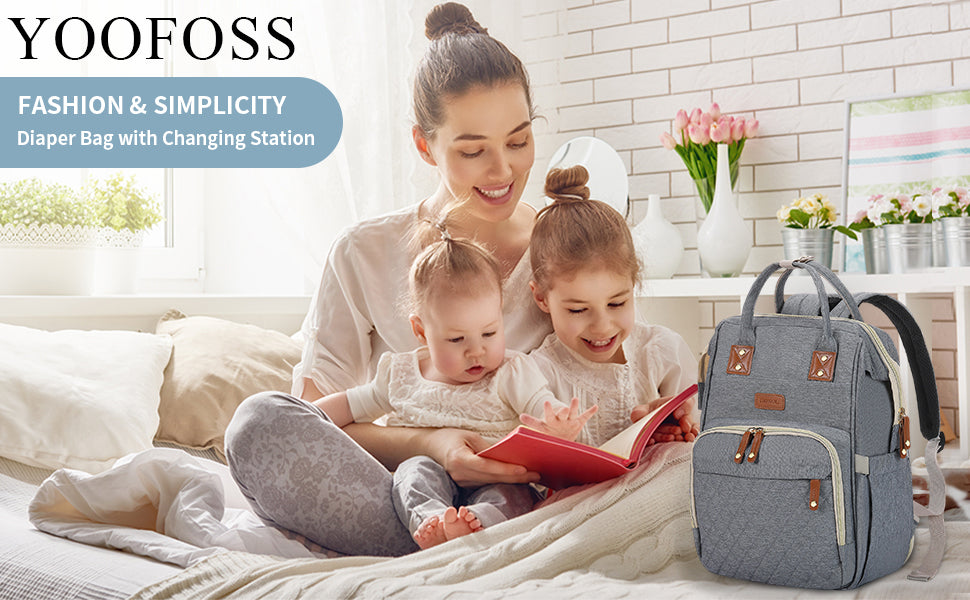 Yoofoss Unisex Diaper Bag—— Hold all your baby's gear, go anywhere you want!.
Keep stuffs in organized way!
Our multiple-use baby diaper backpack offers spacious pockets for your needs.
1 x Zipper secured main pocket includes 4 interior pockets to store baby essentials.
2x Front pockets to store parent's items
2 x Elasticized side pockets for wipes, bottles or umbrella
3 x Insulated pockets for milk bottles
1 x Foldable & comfortable crib 70cm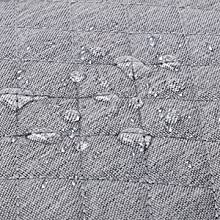 Waterproof & Durable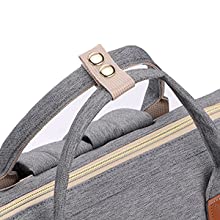 Easy-tote Top Handle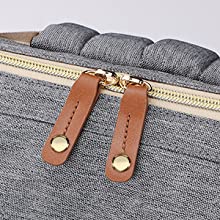 Double Zippers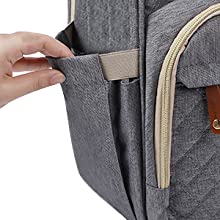 Elasticized Side Pocket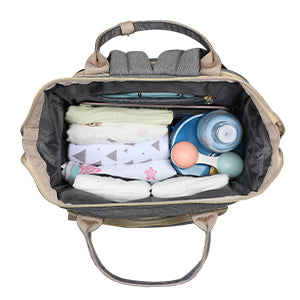 Roomy & Organized
This baby diaper bag offers a spacious interior to keep everything including baby outfits, toys, diaper and parent items organized orderly. The ultra wide opening allows you to quickly get what you want in a pinch.Easy-glide zippers makes this baby changing backpack easily accessible with one hand.
Not Just a Diaper Bag
The diaper bag is not only a baby bag, but also can be used as handbag, purse and more for mom and dad. And with the foldable changing pad, you get a simple crib. More convenient for changing or rest.
Stylish
Moms prefer organize and store all of the important items they need in their diaper bags easily, without having to sacrifice their style and preferences. So a stylish, comfortable, and mess-free diaper backpack is essential!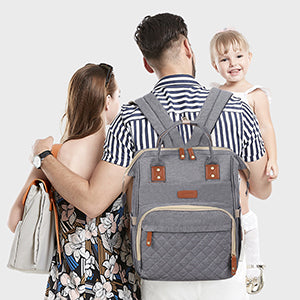 Comfortable Shoulder Straps
Wirh a three-dimensional ventilation design, the straps of our baby diaper bag is helpful for ventilation and heat dissipation. The straps with plenty of foam padding can reduce pressure well.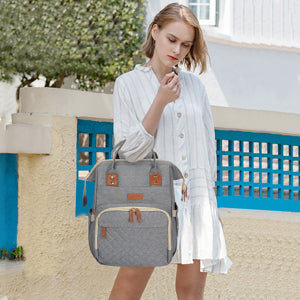 Large Capacity
We know you have a lot of "stuff" you need to take around for you and your sweet babies— toys, keys, phones, drinks, snacks, diapers, wipes and so on. So we prepare a large diaper backpack for you. Everything you need will be put away in an organized way.