Baby Bibs 8 Pack Soft and Absorbent for Boys & Girls - Baby Bandana Drool Bibs by YOOFOSS
customers are viewing this product
8 Pack Stylish Modern Design - A variety set including 8 different designs of baby bandana drool bibs, which not only helps to keep mommy's drooly / teething baby dry and neat, but also are stylish accessories for babies daily outfit.
Adjustable and High-Quality Plastic Snaps - Each baby bandana bibs comes with 2 plastic snaps which prevent any risk of allergic reactions to baby's sensitive skin. The drool bibs is perfect to fit all the time while your baby grows form 0 to 36 months. Bibs stay in place and your baby won't be able to pull them off!
Personalized Baby Shower Gift Set - Every new Mom-to be or Dad-to-be will fall in love with this considerate gift as it not only helps them to take better care of their little one but also reduces the work for them as new parents, it will be easier to wash the bibs than clothes.
100% Satisfaction Guarantee - we LOVE our customer and TRUST our products. If you are not satisfied with your purchase, contact us directly and you can return them for a full refund no questions asked!

YOOFOSS Baby Dribble Bibs are with Super soft organic cotton on the front to soak drools and dribbles and avoiding skin irritation; with back layer of ultra absorbent thick fleece to absorb more liquid and keep your baby's clothing dry, protecting your baby from drool rash on chin, chest and neck area.
Let YOOFOSS Baby Bandana Bibs to Help You with All of Your Problems of Baby's Dribble!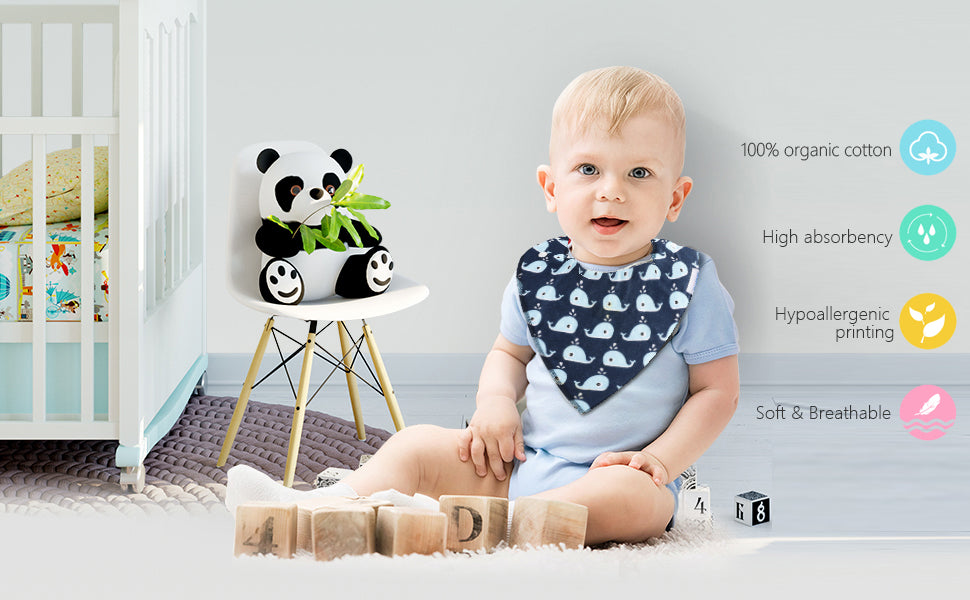 ADVANTAGES:
Made of 100% cotton and polyester fleece
Adjustable snaps made of plastic would not cause any hurt to baby
Comfortable design and cute pattern, fashionable than other bibs
Safe printing and dyeing
Fitting for growing babies 0-36 months
Perfect baby boy gifts for baby shower, Christmas, birthday
YOOFOSS - The Perfect Bandana Bibs Loved by All Parents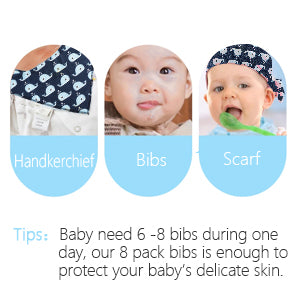 Multi-Purpose to Meet Various Requirement
YOOFOSS Bandana Drool Bibs 8 packs for both newborns and toddlers can be used in a varity of occasions. This baby bibs is quite appropriate for baby when eating, drinking, playing, drooling, etc. No matter at home or go out, just wear our dribble bibs and enjoy your happly family time!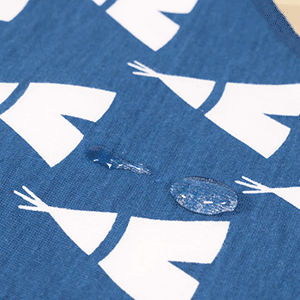 Natural Materials & High Absorbency
Made of pure organic cotton in front and polyster fleece in back, YOOFOSS Baby Bandana Bibs for Boys and Girls are natural, soft, skin-care, healty, non-scratchy and super absorbent. Protect & keep your drooly teething baby dry from all dribble and spit ups, with the dual layer function dribble bibs you don't have to worry more!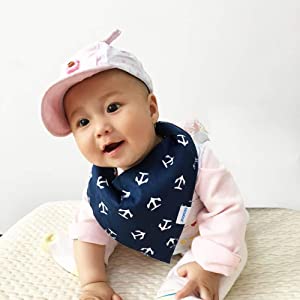 Washing Instructions
To avoid cotton deformation, please don't srub it with your hand.
Recommended to hand wash the bandana bibs with detergent and softener to soak in cold water for three minutes, then rinse it with clean water.
Improper machine washing and drying may cause color fading and shape or size alteration.