Waterproof Bassinet Mattress Pad Cover 2 Pack Fit for Hourglass/Oval Bassinet Mattress, Baby Bassinet Mattress Protector for Boys & Girls by YOOFOSS
🌙FLEXIBLE FIT - Measures 32''x17'', designed specifically to almost all standard oval, round, rectangle, hourglass shaped bassinet mattress and beside sleepers. Deep pockets make sure the mattress cover universal fit mattress up to 4 inch thick.
🌙QUILTED AND SOFT FABRIC - Made of soft and breathable fabric which makes our bassinet mattress protector comfortable to touch, especially perfect for baby delicate skin. The quilted process increases air flow and helps regulate sleeping temperature to create a cozy sleeping environment.
🌙WATERPROOF FUNCTION - Our bassinet mattress pad provides the perfect combination of cushioned comfort and complete waterproof protection to ensure a healthier and better night's sleep, it can fully protect moisture from baby's skin faster and keep your mattress clean by absorbing spills, sweat and any liquids.There is no worry about those leaky bottle messes or potty training misses anymore!
🌙WASHABLE & DURABLE - Our bassinet mattress sheet is easy to clean up after occasional night time accident. We use strong, reinforced threads, protected waterproof lining and top notch fibers to make this a soft but long-lasting bassinet mattress cover that will withstand hundreds of washing & drying cycles and will never shrink!
🌙100% CUSTOMER SATISFACTION - We LOVE our customer and TRUST our products. If you are not satisfied with our waterproof crib mattress cover, contact us directly and you can return them for a full refund no questions asked!
Sleeps so sweet on YOOFOSS Bassinet Mattress Protector just like surrounding by mum's embrace.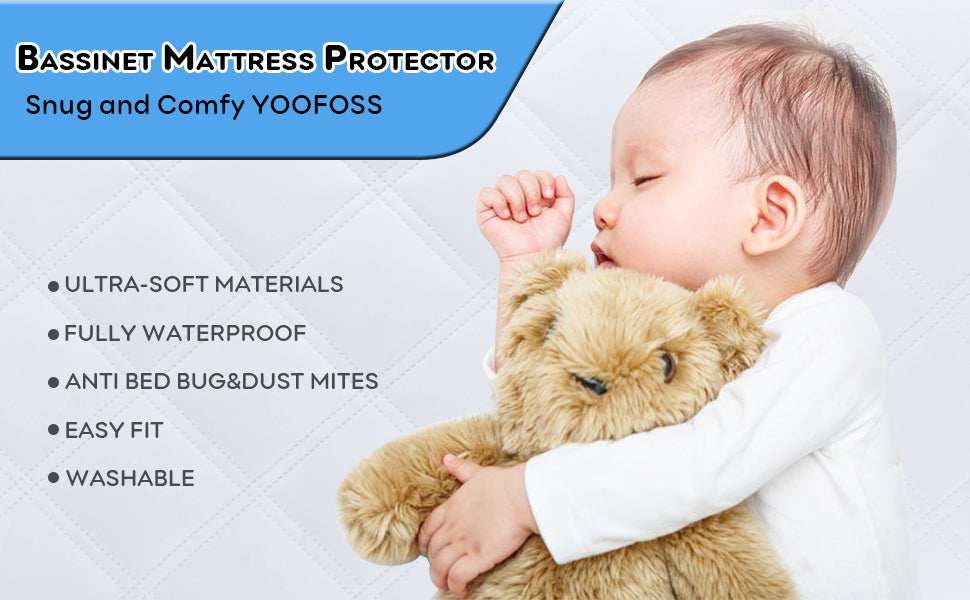 YOOFOSS bassinet mattress protector is made of soft & breathable material which keeps your baby warm in the winter without being hot and sweaty in the summer.
With a fully waterproof bottom layer, keeping your crib mattress always be clean and fresh.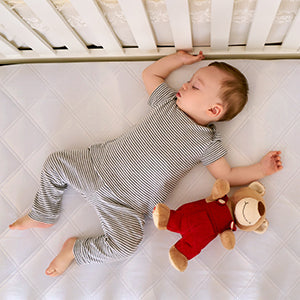 The highest material used to Serve your Little Ones Well
To ensure your little ones have a good night's sleep without being discomforted at any point,the top layer is made of a ultra-soft material crafted with baby's sensitive skin.It is also a highly breathable elasticized fabric keeping your baby healthy and warm enough without being sweaty at all times.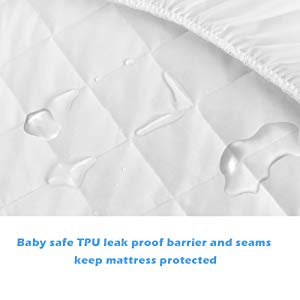 Waterproof function-Protect your baby and your mattress
Our waterproof bassinet mattress pad whisks the moisture away from the top layer of the pad and protects your little one from being anywhere near wetness. If your little one has any accidents during the night, you can also be easy and there is no worry about the mattress getting ruined because the bottom layer will be a barrier seam keeping your mattress protected too.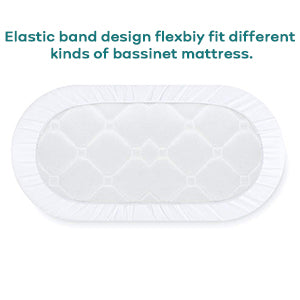 Flexible in Use
The design of elastic skirt around the bassinet pad make it fits pretty snug for most standard oval/hourglass bassinet. It is more easily to put the cover on & more quick to take off from your mattress than other pads/sheets.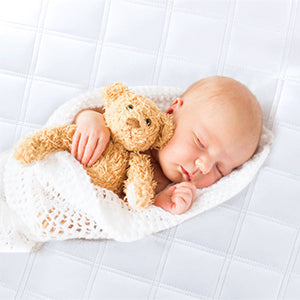 Create a peaceful place for your baby
The bassinet mattress protector fits perfectly and does not rustle. Whenever baby moves there is no crinkle noise, which will not affect your baby's sleep.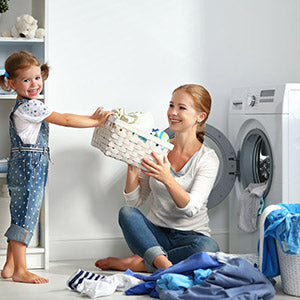 Washing Instructions
Machine washable witin mild detergent.
It is recommended to wash at low temperature to avoid damage to the TPU waterproof layer.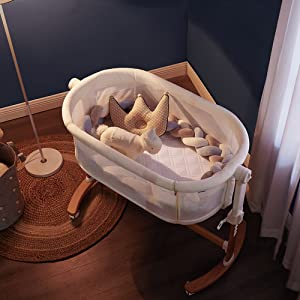 A Great Investment
Different from most covers, YOOFOSS bassinet mattress cover, featuring strong threads, reinforced seams,top notch fibers and TPU waterproof fabric, is more soft but long-lasting that will with stand HUNDREDS of washing & drying cycles and will never shrink!