Yoofoss Luxury Bamboo Washcloths Towel Set 10 Pack Baby Wash Cloth for Bathroom-Hotel-Spa-Kitchen Multi-Purpose Fingertip Towels & Face Cloths
BAMBOO FABRIC: Made with bamboo rayon our washcloths have a soft and plush feel compared with normal cotton ones, offer the perfect combination of softness and strength.
VALUE BUNDLE: These hand towel are the perfect small-sized 10''x10'' to keep next to yoga mat, in golf bag, in kitchen, in bathroom or any place where a larger size towel is unnecessary. Not only for adult use, but also for baby or toddler.
SUPER ABSORBENT: Bamboo towels are super absorbent than cotton. Our fingertip towels are designed to provide maximum absorbency also insure quick drying.
EASY CARE: These face cloths are durable, machine washable, tumble dry on low and can stand up to multiple wash cycles. They become plusher and softer after the first wash, fluff up beautifully and no shrinkage.
Eco-Friendly & Reusable - Our towel set has reinforced stitching to make the bamboo washcloths last longer. Reusable and will get softer with every wash.They are chemical free, making them not only better for your baby, but also better for the environment.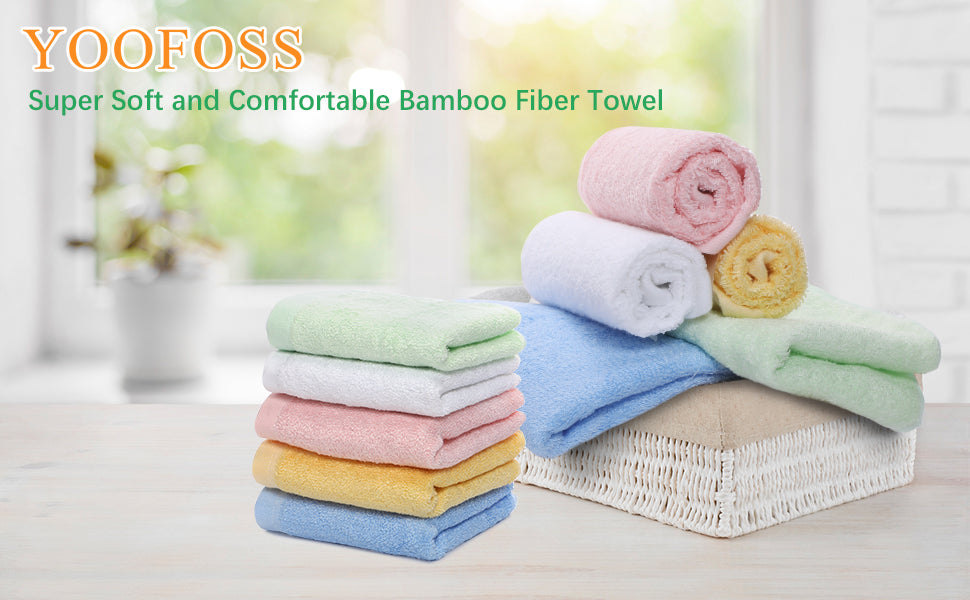 Tired of using rough, non-absorbent, thin, and poor quality Washcloths for daily use in your home?
Try Our deliciously soft, highly absorbent, and excellent value bamboo Washcloths and you'll be glad that you did!
Key Features:
Generous 10 x 10 size
Hem stitch reinforced edges to prevent unravelling.
Lightweight, super-absorbent and made of bamboo rayon.
Extra absorbent and retains moisture.
Machine washable with minimal lint or shedding.
Dries quickly.
Can be used for a multitude of household tasks.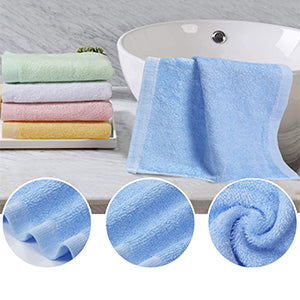 Characteristics of Bamboo Fiber:
Much healthier than traditional cotton, offer the perfect combination of softness and strength.
High water absorption, nearly twice as high as the ordinary washcloths, can fully absorb the moisture on the face or body.
Washing Instructions:
To ensure that your towels stay soft and hold their color, we recommend following these :
Before use, we recommend removing excess lint and shedding on the towel.
Towels can be washed in warm or cold water, maximum 90℃. But the high temperature will shorten the service life and will make the towel harder, it is recommended to wash at a temperature below 40℃.
Wash before use for the first time as this will get rid of the excess lint and shedding leftover.
We recommend washing towels after 3-4 uses - the more often the better, this helps create a softer, more luxurious feel.